Saturday 2nd October 2021 at 11.00 am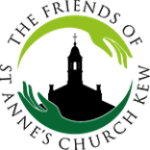 'NERO, ROME AND THE GOLDEN PALACE'
Dr. David Bellingham
St Anne's Parish Hall - Coffee served at 10.30 am
We are delighted to welcome back Dr David Bellingham, the art historian, author and Programme Director for the master's degree in Art Business at Sotheby's Institute of Art, London
David's lecture about the current exhibition at the British Museum (until 24 October) will remind what a wonderful period the first century CE was for the arts and architecture. This lecture investigates Nero the man and the myth. Nero Claudius ugustus Germanicus (37-68 CE) was proclaimed Roman Emperor at the early age of 16 following the death of his adoptive father Claudius.
BUY TICKETS ONLINE ONLY
£25 & £20 for Friends of St Anne's at www.friendsofstaneskew.org.uk
BOOK EARLY AS LIMITED TO 45 PEOPLE
Streaming or Recording NOT available