Summary of The Friends of St Anne's Lecture
''NERO, ROME & THE GOLDEN PALACE''
Saturday 2nd October 2021
By Dr David Bellingham
We were delighted to welcome back Dr David Bellingham, In person, the art historian, author, and Programme Director for the master's degree in Art Business at Sotheby's Institute of Art, London to give his wonderful lecture on Saturday 2nd October 2021. This was a special day for The Friends as it was our first 'In person' lecture since February 2020 because of the restrictions with Covid- 19 and it couldn't have been better to have David as our first In -person speaker.
Before he started, David dedicated his lecture to Charles Hill the renowned Art Detective (Charley as we all knew him at St Anne's) as no memorial service has yet taken place.
David's lecture about the current exhibition at the British Museum (until 24 October) reminded us of what a wonderful period the first century CE was for the arts and architecture. This lecture investigated Nero the man and the myth. Nero Claudius Augustus Germanicus (37-68 CE) was proclaimed Roman Emperor at the early age of sixteen following the death of his adoptive father Claudius. David really brought that whole period alive with his commentary accompanying the many interesting slides.
At Sotheby's Institute of Art, London David also leads a core unit on The International Art World, Law and Ethics, as well as electives on The Market for Antiquities & Old Masters and Ethics, Law & the Art Trade. In addition, he lectures on Classical Art and Architecture, and their reception in the modern era. He holds a special honours degree in Latin and Classical Archaeology (University of Birmingham), and a doctorate from the University of Manchester for his thesis on the cultural and socio-economic aspects of sympotic scenes in ancient Roman and Pompeian wall-painting. David has published numerous books and articles on a variety of subjects, including art fairs; art business ethics; Greek & Celtic mythology; the art market for classical sculpture and frescoes; the paintings of Sandro Botticelli; authenticity issues in the paintings of Frans Hals; and the ethical reception of the Riace Bronzes. Earlier this year David wrote the introductory essay for Dreaming of Identity, an exhibition of the paintings of emerging Afro-British artist Kojo Marfo at the JD Malat Gallery in Mayfair. David is currently editor of the Antiquities volume of A Cultural History of Collecting (Bloomsbury Publishing).
See the Bibliography and Map of the Palace with this summary
Lorraine Neale
Chairman, The Friends of St Anne's Church Kew - October 2021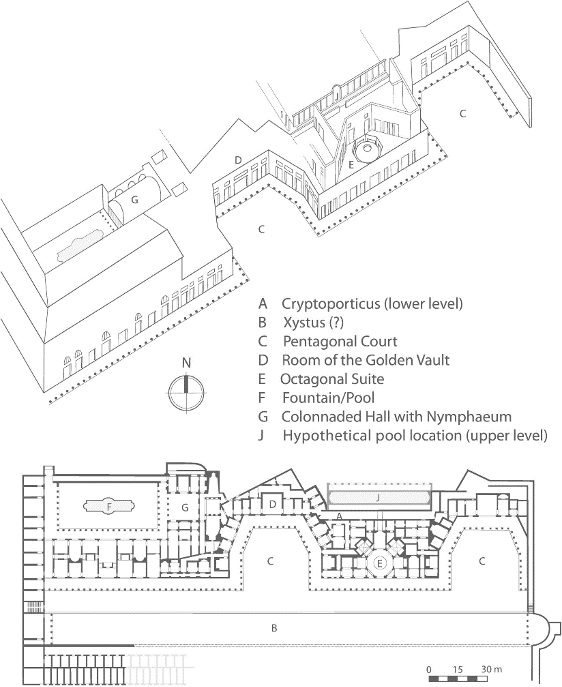 Select Bibliography: Nero
Shadi Bartsch, Kirk Freudenburg, Cedric Littlewood (eds.), The Cambridge companion to the age of Nero, Cambridge University Press, c2017.
F. Drinkwater, Nero: emperor and court, Cambridge University Press, c2019.
Select Bibliography: Golden House
Larry F. Ball, The Domus Aurea and the Roman architectural revolution, Cambridge: Cambridge University Press, c2003
Axel Boëthius, The golden house of Nero : some aspects of Roman architecture, Ann Arbor: University of Michigan Press, [1960]
Robert Hannah, Giulio Magli, Antonella Palmieri, 'Nero's "Solar" Kingship and the Architecture of the Domus Aurea', Numen v63 n5-6 (20160101): 511-524